Sedaqa Red Honey Process
Ethiopia

-

Nectarine / Syrup / Lilac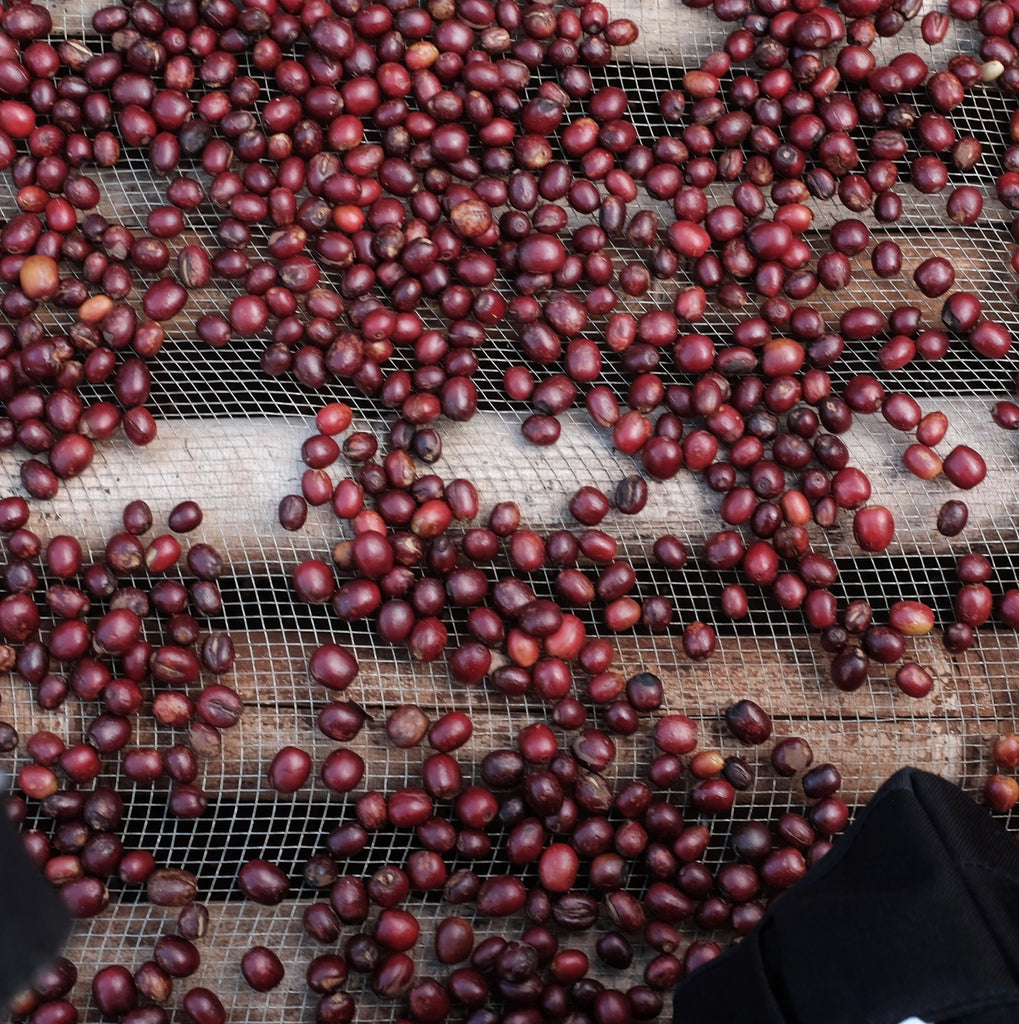 This wonderful Red Honey processed coffee is a stunner, and is sure to be a favorite just like Shantawene Honey was last year.
We taste syrupy sweetness, similar to peaches in simple syrup, complemented by floral qualities reminiscent to lilacs and jasmine.
The Sedaqa Olonso Washing Station:
The Sedaqa Olonso site stands out for its simple breathtaking beauty that unfurls, step by step, as you walk down its steep slope. Sedaqa Olonso is also quite a new site.
Clear, lovely coffee trees dot the premises and offer sweet jasmine-like perfume. A long, slanting driveway leads to the collection area where cherries from nearby smallholders are taken, weighed, and recorded. Then they are dumped into the large sun-dappled cement hopper and fed through the 3-disk Agard pulper into one of 9 fermentation tanks or onto a honey process.
Red Honey Process:
Following pulping, Red Honey process coffees go into a very controlled fermentation cycle.  Then the mucilage-laden parchment is moved to shaded drying beds, where it is kept slowly drying entirely under a shade canopy with excellent airflow.
The drying with shade adds 4 to 5 days overall drying time with this Red Honey, and affords a stable distribution of moisture content throughout the cellular structure, along with a dialed in water activity.
This strong uniformity in the drying of all the coffees is critical in a good honey process.
The Producers:
400+ smallholder producers from the surrounding communities (kebeles) of Olonso Qeka, Olonso Hore, Bahire Dalo and Sedaqa bring their ripe cherries to the Sedaqa Olonso washing station. As is true in most parts of Ethiopian, their farms are small, ranging from backyard "garden" coffee to an average of 2.75 hectares.
Coffee is a cash crop, and though often a grower may produce only 2 or 3 bags per year, sale of their cherries enables them to improve their quality of life, send their children to school and purchase necessities.
Having a washing station within the area means that they do not have to trek so far with their cherries, which besides being much more convenient and efficient, enables the cherries to reach the station while still at their peak of freshness.
Location:  Olonso Qeka, Bona Zuria, Sidama
Producer: Various Smallholders
Varietal:   Ethiopian Landraces
Process:  Red Honey Process
Altitude:  2,000 - 2,200 m.